An infestation of cockroaches can result in a variety of extremely serious health problems, including flare-ups of allergies, asthma, digestive problems, and more. On the other side, a bed bug infestation is an unpleasant experience that may endanger human health.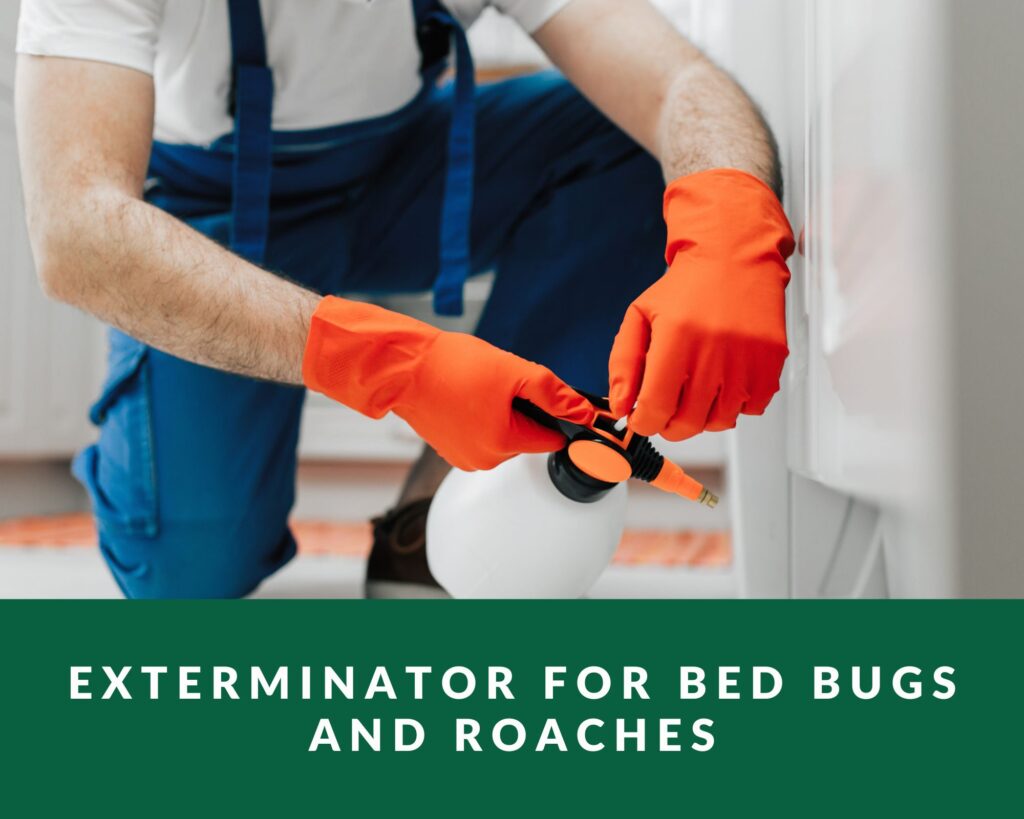 These annoying insects are easily drawn inside by wetness near the home's exterior in quest of a comfortable dwelling. Once the bugs take hold, their population can increase quickly. Taking prompt, effective action, such as hiring an exterminator, is the best method to get rid of them.
Here is a run through of the best advice on getting rid of cockroaches and bed bugs. If you wish to exterminate bed bugs and roaches as quickly as possible, continue reading. 
Who is an Exterminator for bed bugs and roaches
An exterminator is a person or company that specializes in getting rid of pests including rats, insects, and others from homes, buildings, and other structures, sometimes by carefully applying poisonous chemicals.
We would like to add to that definition that a good exterminator works to develop a thorough treatment plan that includes both pest prevention and pest control to keep pests out of a home or commercial facility.
Can roaches and bed bugs live in the same space?
Cockroaches and bed bugs are not likely to coexist in the same area of the house. Although they will do so, cockroaches prefer not to reside in bedrooms. The bedroom is bed bugs' preferred living space.
Bed bugs and cockroaches can, unfortunately, coexist in the same space. When this occurs, both of these hardy pests will invade various rooms of the house. The availability of food, water, shelter, and safety attracts cockroaches.
They will reside in a space that is close to these amenities, like a kitchen or bathroom. Human blood provides bed bugs with the nutrition and water they require. They therefore populate places close to people, emerging when we are sleeping.
What exterminators use to get rid of bed bugs 
Bed bug treatments can be divided into two categories: chemical and non-chemical. In order to completely get rid of bed bugs in a home, bed bug exterminators usually utilize a mix of the two.
Depending on where the bed bugs are and what kind of material needs to be treated, different pesticides will be required. The chemicals most frequently employed for bed bug control, according to the EPA, are:
To completely treat a home and stop further infestations, exterminators also use non-chemical remedies. Heat treatments are used in many techniques. Bed bugs and their eggs will instantaneously perish at 122 degrees Fahrenheit since they cannot survive over 118 degrees Fahrenheit
In order to eradicate bed bugs, bed bug exterminators frequently do a whole-room heat treatment that increases the temperature within the room for 6 to 8 hours. Other methods for getting rid of bed bugs include freezing and steam treatment.
What exterminators use to get rid of cockroaches
To get rid of roaches—often using poison bait—exterminators strive to locate their points of entrance, nests, and feeding grounds. A normal roach infestation calls for one to three treatments, comprising a mix of insecticidal spray, glue traps, and gel bait.
Fumigation can be necessary for the most severe infestations. Due to the high expense and disruptive nature of roach fumigation, it is only used as a last resort.
The type of treatment an exterminator will offer depends on how bad your cockroach infestation is. As a result, if fumigation and tenting are needed to eradicate the infestation, the cost of extermination will rise tremendously.
Hiring the best exterminator for bed bugs and roaches
Depending on the services needed, hiring a bed bug exterminator might cost anywhere from $300 and $5,000. For instance, due to the quantity of chemicals needed and the length of time required for treatment, a small residence with few pests will probably be less expensive than a large apartment complex with a bed bug or roach infestation. While some exterminators charge a set rate per room, others provide a quotation for the full work.
The cost of bed bug treatment depends on a number of factors. The cost of treatment will increase as the number of bed bugs and roaches increases. However, other elements, such the size of the area and the type of care required, can have an impact on the cost.
Additional expenses, such as those resulting from the need to remove or replace carpets or dispose of and replace furniture, may also have an impact on the price.
Why use an exterminator to get rid of pests
Although a do-it-yourself technique may appear to be the most economical choice, it frequently ends up costing more than hiring a professional service. Customers will profit by hiring one of the top pest exterminators rather than trying to handle things themselves.
Without using extra chemicals or inefficient treatments, a professional can make sure that bugs are safely and successfully eradicated from the house. Additionally, experts are trained to identify and handle issue areas that the ordinary person wouldn't be able to see, assisting in the long-term eradication of pests.
Due to their awareness, clients may reduce costs and enjoy their houses more knowing that they've taken the necessary safeguards to prevent infestations in the future.
Exterminators can identify issues before they worsen, thus saving money and assisting in preventing future problems.
Professionals can properly fumigate a home and eradicate bed bugs without causing harm since they have powerful equipment and training.
Experts are aware of the risks posed by pesticides and have strategies for only applying them when absolutely necessary.
Best exterminator for bed bugs and roaches in 2023
1. Orkin
Customers will receive quality service and successful bed bug treatment from Orkin because of the rigorous and open standards for technician training and certification that the company maintains. Orkin is a nationwide pest control company with more than a century of industry experience.
Countrywide coverage
Phone and online scheduling
Certification: State, local, and National Pest Management Association QualityPro certified
A 30-day money-back guarantee is offered.
24/7 telephone customer service
2. Terminix
With more than 90 years of experience, Terminix is able to protect houses against pest infestations and permanently get rid of them. The name Terminix is well-known in the pest management industry and offers exterminators statewide.
Many clients may find it less stressful to use Terminix because there is no need to make any preparations, such as bagging up infested goods, prior to the arrival of its personnel. In order to reassure consumers that their houses will continue to be safeguarded, the firm also provides a hefty 6-month retreatment guarantee.
Countrywide coverage
Phone and online scheduling
State- and locally-issued certification
Six-month guarantee for retreatment
Available round-the-clock through phone and live chat
3. Rentokil
Rentokil uses their PROTECT+ method to get rid of bed bugs. With a focus on integrated pest management, the PROTECT+ system treats bed bug infestations holistically while also limiting their impact. Rentokil focuses on keeping businesses going and providing valuable services because they are experts in commercial pest control, therefore their treatment plan choices are centered on offering efficient solutions.
Countrywide coverage
Phone scheduling
State and local certifications
Customer satisfaction is guaranteed.
24/7 telephone and email customer service
4. Truly Nolen
Truly Nolen Pest Control is a company that provides a range of pest control services including termite control and extermination. Their attention to detail and use of innovative methods make them a leader in the field.
Pros
Experienced technicians
Safe and eco-friendly methods
Cutting-edge extermination techniques
Cons
They may not be available in all region
Quality of service may vary depending on the technician to handle job
They may be expensive
5. Ehrlich Pest Control
Ehrlich Pest Control offers professional pest control solutions for homeowners and businesses. They have a team of experts who are trained to provide effective and efficient extermination services.
Pros of Ehrlich Pest Control:
Ehrlich places a high priority on safety, using methods that are safe for both people and the environment.
They offer a wide range of pest control services to meet the unique needs of each client.
Ehrlich works with clients to provide customized pest control solutions that meet their specific needs and preferences.
Cons of Ehrlich Pest Control:
Their services may be more expensive compared to other pest control companies.
Limited availability
6. Hawx
Hawx Pest Control is a company that provides a range of pest control services. They have a reputation as the local leader in pest control, offering a variety of benefits to their clients.
Pros
Optional free re-treatment between services
Directly communicate with techs via text
Cons
Most extensive mosquito eradication plan on the market
7. ZeroPestNG
Zero Pest exterminators are top-notch professionals in the pest control industry. They provide effective and efficient solutions to eliminate pests from homes and businesses. The technicians are knowledgeable, friendly, and take the time to understand each client's specific needs.
They use safe and eco-friendly methods to get rid of pests
State and local certifications
Free inspection
Offers 30-day money back guarantee
How to choose the best exterminator for bed bugs and roaches
If the extermination companies on our list don't meet your needs, you can broaden your search to include nearby local companies. But it's crucial to keep in mind that not all exterminators are equally prepared to handle bed bugs and roaches.
When selecting which exterminator to hire, be sure to keep an eye for the following qualities:
Duration of experience
Liability protection
Treatment strategy
Professional Representatives
Online reputation and reviews
Certification and licensing
The takeaway: Exterminator for bed bugs and roaches
It's time to start cleaning up to get rid of the cockroaches' food source whether you've seen several cockroach indicators or have actually seen one running around your home. But if this hasn't made them leave, it's best to call a professional exterminator to come have a look.
It is always better to take action and contact the exterminator as soon as possible when dealing with cockroaches and bed bugs. The more quickly you call, the more likely it is that the infestation is minor and will be easier to get rid of. The greater the infestation, the more expensive and longer time it will take to get rid of them.
Top Related Articles