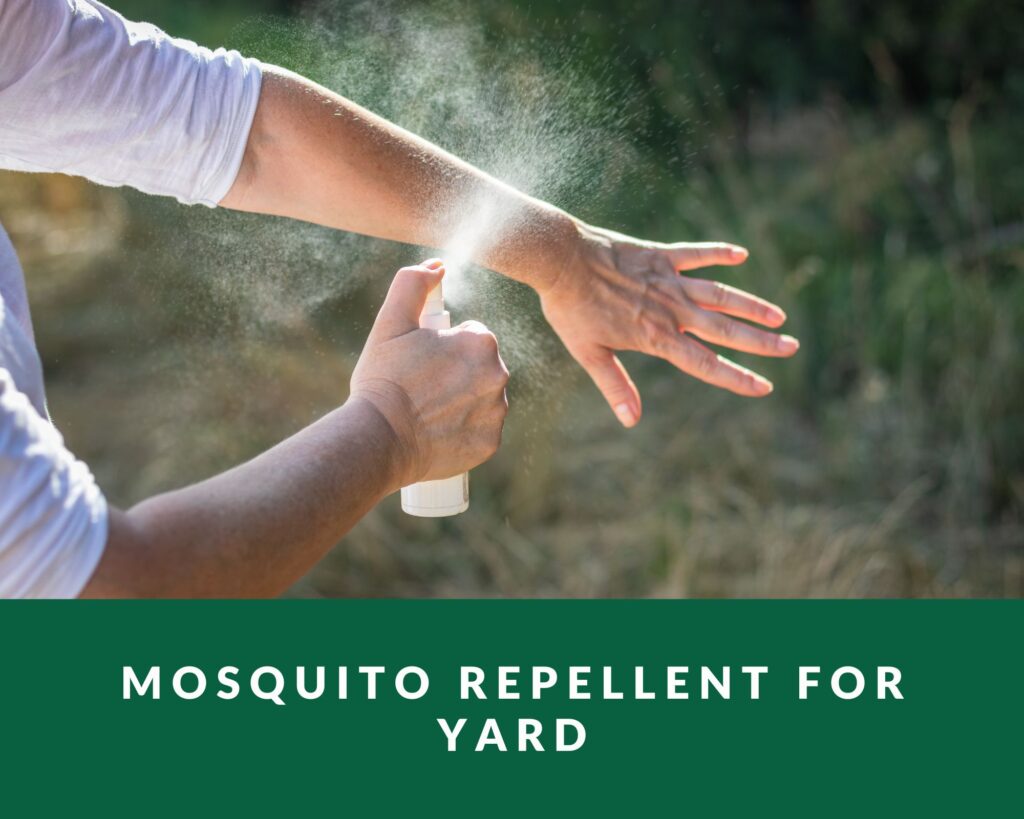 Even the most anticipated outdoor activities can become uncomfortable due to mosquitoes owing to their itchy bites and tendency to spread diseases. You can enjoy the outdoors more if you use an efficient mosquito repellent, especially in humid places where the parasites are more prevalent.
What Are Mosquito Repellent for Yard
A material used on skin, clothing, or other surfaces to deter insects from invading an area is known as a mosquito repellent. Mosquito repellents aid in the prevention and management of the spread of diseases transmitted by mosquitoes, including West Nile, dengue, and malaria.
A mosquito-repelling active ingredient is usually present, along with secondary substances that, among other things, reduce the active component to the suitable concentration and aid in its release when necessary.
How Effective Are Mosquito Repellent for Yard
Effective mosquito spray repellent requires careful selection of the product. It is important to use mosquito repellent correctly, in the appropriate places, and at the suitable concentration. Mosquitoes may sense an undetectable cloud of substances released when you spray insect repellent in your yard.
Many of these commercial repellents contain DEET, which, while not strictly a repellent, has an active element that distracts mosquitoes and hinders their ability to detect humans in order to bite.
Best Mosquito Repellent For Yard
One of the most annoying aspects of attempting to spend time outside is smacking at mosquitoes. The good news is that as long as you pick the appropriate external mosquito repellent for your area, it's simple to keep pests out of your backyard abode.
We spent hours looking through the numerous choices on the market to identify the finest outdoor mosquito repellent. We took into account elements like type, components, durability, and price offered as we narrowed the list.
Here are our recommendations for the top mosquito repellents for outdoor use.
1. Thermacell E90 Rechargeable Mosquito Repellent
Thermacell produces a number of efficient space deterrents. But none of them can compare to the simplicity of use of the E90 Rechargeable Mosquito Repellent.
Pros
One simple button effectively repels insects.
Pet- and people-friendly
Cons
Expensive to buy for those with modest incomes.
Limited battery life
2. Bug Soother Spray
A natural mosquito repellent, 100% pure lemongrass essential oil, with a hint of vanilla for a scent that people love but mosquitoes and other insects hate. Unlike other products, it doesn't leave an oily behind and is full of ingredients that are good for the skin.
Pros
Safe for pets and children
Deet free
Inexpensive to purchase
Has long lasting coverage
Very easy to use
3. Murphy's Natural Mosquito Repellent Candle
Candles that repel mosquitoes are a terrific option for people who wish to put in the least amount of effort. You only need to light the candle and set it on your table to have a meal without any bugs, making it ideal for yards.
This one is free of DEET or additional synthetic smells and is produced from plant-based oils that naturally repel mosquitoes, such as peppermint, rosemary, citronella, lemongrass, and cedarwood.
Pros
Derived from organic plant-based repellents.
Tin containers are recyclable.
30 hours maximum of work
Cons
According to several reviewers, bees are drawn to it.
Costly to purchase
4. Wondercide Outdoor Pest Control Spray
Sometimes it's challenging to compete with the convenience of resolving numerous issues with a single item, but this spray certainly does that. It deters other bothersome insects as well, including ants, ticks, crickets, gnats, and more, in addition to mosquitoes.
Pros
Pet- and family-friendly
It has a great aroma.
Without fragrances or harsh chemicals in its formulation
Cons
5. Terminix AllClear Mosquito Bait and Kill Yard mosquito repellent
This is conceivably the most cost-effective and efficient way to keep mosquitoes away from your yard. Spraying garlic oil on plants attracts mosquitoes, who are subsequently killed within a day or two by becoming ill.
When sprayed in the yard, it diminishes the population by approximately 80%. It comes in a smaller aerosol-type container compared to some of the others, making it appropriate for smaller, more focused applications.
Pros
It is not harmful.
Kills adult mosquitoes and breaks the breeding cycle.
Safety precautions before using mosquito repellent for yard
Look at the label to check if there are any fire resistance cautions. If so, stay away from lit cigarettes and open flames.
When you get inside, wash the treated skin and clothing in soap and water.
Any product that does not specifically mention it is for animals on the label should not be used on pets or other animals.
In a lockable storage closet or garden shed, keep insect repellents securely out of children's reach.
Conclusion
A mosquito spraying service is the perfect choice for many people.. Professionals are well-versed in the application of mosquito repellent to your yard and are aware of the warning signs of outbreaks, such as stagnant water and other issue spots in your yard.
Additionally, they have access to high-quality materials for professionals, which are going to be more efficient than consumer goods purchased from a store.