The level of discomfort caused by pests that occasionally infiltrate our houses varies from person to person. Based on your preferences, you may need monthly, quarterly, or annual pest control for bed bugs and cockroaches.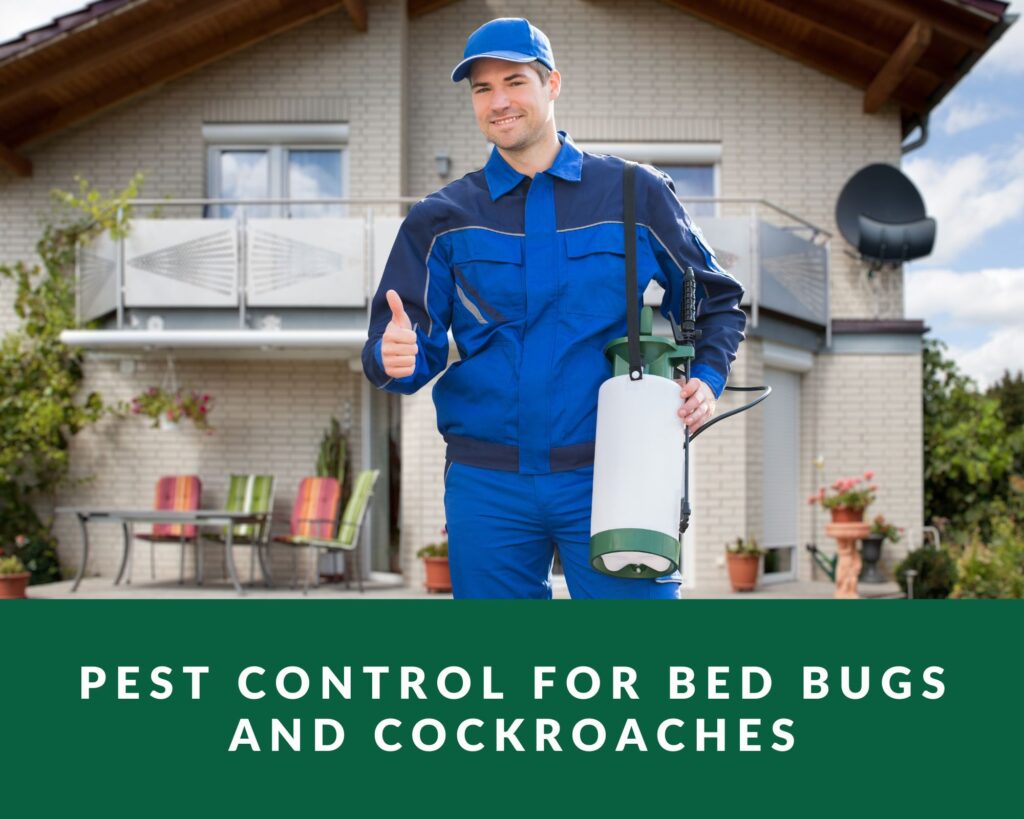 Pest control is the process of limiting or eliminating bothersome pests and other pests from areas used by people. It ought to:
Be handled by a qualified pest control specialist who has in-depth knowledge of the pests they treat.
Be informative.
Also, provide a strategy for dealing with the issue and preventing it from happening again.
You'll probably be a part of this plan. There are a lot of things people could and need to be doing to lessen and avoid pest invasions and subsequent infestations. You may be sure that you are aware of and comprehend your role in the solution thanks to a professional pest control company.
Remember that the key component of "pest control" is "control," meaning seizing both the problem and the pest. Control is difficult without some kind of control of pests. We would be pleased to help you if you have any queries on how to effectively deal with a pest problem.
Bed bug or cockroach which is worse?
Bed bugs and cockroaches both have negative aspects. They are challenging to eliminate because they reproduce quickly and are hard to kill. Bed bugs are viewed as being more dangerous than cockroaches since they:
Feed while you're sleeping on human blood.
Actively look for hosts among humans
Bites that are constantly swelling, itching, and red
Cockroaches are undesirable because:
They are carriers of dangerous infections
They are triggers for allergies and asthma
They crawl across kitchen and food preparation surfaces
Neither can be regarded as better than the other because they both create distress and anxiety. As a result of bed bugs and cockroaches having faster metabolic rates in warmer weather, you'll discover that infestations are much worse in the summer.
Pest control for bed bugs and cockroaches
They are cunning enough to resist inexperienced elimination attempts, as evidenced by the fact that bed bugs have endured for centuries and roaches for over 350 million years.
Additionally, you'll want to make sure that every pest is removed to prevent a re-infestation. For this reason, it's crucial to work with a qualified, experienced bed bug exterminator. To address a pest infestation properly, get in touch with a certified pest control specialist if you suspect or find one. Waiting just makes it harder to get rid of these pests.
Best methods of pest control for bed bugs and cockroaches
Physical pest control
In order to eradicate pests from a space, physical pest control techniques include trapping, killing, and removal of bugs. In order to prevent pests from coming back or invading in the first place, it may also require erecting obstructions and "pest proofing" the area.
Physical pest control methods frequently require removing or damaging nests, blocking holes, windows, or doorways, using temperature control techniques to kill bugs, or placing traps to catch pests and then removing them from the area.
Chemical pest control
Chemical pest control is the most often used method of control of pests. They are frequently employed to prevent crop diseases and plant infestations.
The term "pesticides" refers to chemical pest control treatments that are usually poisonous and deadly to pests that consume them or come into contact with them. Chemical pesticides are dangerous and should only be applied by professionals with the proper training as they can be extremely harmful to people if swallowed
Ultra-low volume (ULV) fogging is a different chemical pest management technique that eliminates insect infestations by dispersing minute amounts of poison. Fumigation, which is on the extreme end of the chemical pest management spectrum, entails closing a structure and flooding it with poison to eradicate any pests there.
Biological pest control
One of the first approaches to pest control is the biological method. This involves employing other natural organisms to control or eradicate a type of pest, which typically entails reintroducing the insect's native predator to the same area.
While it isn't frequently employed in the context of health safety, it could be utilized to manage greater insect populations that could endanger local residents.
Overall best pest control providers for bed bugs and cockroaches in 2023
How we choose the best pest control for bed bugs and cockroaches
It's essential to select the best pest control provider for your residence. But how can you choose the best pest control when there are so many options available? Is bigger always preferable? What does pest control cost?
Making a decision is typically simpler if you list the main factors to take into account when selecting a pest control business. Here are some important pest control tips, especially when picking a service provider.
1. Experience
How long has the business you're contemplating existed? How long have they been offering expert pest control, not simply nearby? Nobody wants a shady business for anything, but one that provides pest treatment can have some very significant repercussions.
If you hire a less skilled firm, the pests you're attempting to get rid of may either remain where they are for a longer period of time than if you hired a more experienced company initially, or they may just flee the treatment, making them more difficult to catch.
2. The specialty
Although many reputable pest control businesses can manage any pest issue, some could focus on dealing with certain pests or utilizing particular techniques.
These pest control services occasionally decide to concentrate on particular pests in order to provide the best service possible in those markets, while others gradually establish specialty as a result of the geographic predominance of particular pests in their regions.
Depending on the severity of your pest issue, you might want to hire a business that deals exclusively in managing your pest. Find out how they tackle your particular kind of bug by reading their website and reviews.
3. Cost
Everyone enjoys a good deal, but quality should always take precedence over quantity. What kind of service is included in the course of treatment that you have been told? The cheapest quotation can leave out many of these crucial features because they are not included in scheduled seasonal services, free emergency calls, rapid response times, fully qualified personnel, or exceptional customer service.
We can't give you an estimate of how much pest control should cost because it depends on the size of your house, the type of pests you have, and how many treatments are required. However, we can advise you to consider your options and make sure your comparisons are fair.
4. Liability
It is advisable that you find out if a pest exterminator has workers' compensation insurance before hiring one. Additionally, ask questions about general liability insurance in the event that safety steps were not taken. This step is to protect both you and them in case a worker is injured on your property.
5. Available treatments
If you are battling bed bugs, asking questions can help you make smarter decisions. A pest exterminator uses a range of treatment methods. This enables them to determine which one is most effective at getting rid of a given pest.
6. Customer service
The top pest control firms will work with you to fulfill your needs. Your preferred business ought to be willing to treat your issues with the attention and consideration you deserve. You should go through every detail of the pest infestation. This ensures that you comprehend every aspect of your infestation and how to stop it from happening again.
Pest control for bed bugs and cockroaches home inspection visit
Maintain order and cleanliness in your home
Before the PCS team arrives, make sure your home is clean and organized. Pests will be drawn to the PCS bait instead of your home's clutter as a result.
Give appropriate access
Pests enjoy hiding in little crevices, behind furniture, and under boxes and other items that are kept in storage. You need to provide your pest control expert with as much access as you can to these locations. By removing objects, you can make it easier for them to access the tightest spaces and precisely and successfully administer pest control measures.
Open all the cabinets, closets, and doors.
Pests are quite good at hiding in cracks and crevices, as was already noted. Opening a lot of doors between rooms, closets, and drawers will provide your pest control specialist easy access to look for activity, make it simpler to treat bugs and help you identify any little, unwelcome guests that could be hiding.
Take yourself, your pets, and your loved ones out of the building if required
You might need to leave your pets, you, and your family out of the house while you receive a particular sort of pest control treatment. Keep your pet and children inside while the exterior of your property is being treated by a pest control specialist to avoid accidental poisoning.
When meeting with your pest control specialist, try to be at home.
When making an appointment with a pest control specialist, make an effort to be home to welcome them and provide them access to any rooms where pests may be lurking. Being there when a pest control specialist inspects your property will help them more quickly identify the source of your issue, treat it, as well as provide recommendations.
When should pest control be carried out?
A minimum of four times a year should be spent on pest control because pests change with the seasons. A professional pest control agent should visit your home every three months to inspect it and modify your pest control measures as necessary. This makes sure that as the seasons and temperatures change, some seasonal pests won't thrive in or around your home.
Conclusion
Just before the infestation worsens and starts producing new issues, it's critical to treat it when these symptoms are identified. While there are some DIY pest control techniques, they frequently fall short of total control.
Sticky traps, for example, must be properly positioned in order to get rid of roaches and bedbugs while ignoring the source of the infestation. Apartment roach infestations can be particularly difficult because there are so many flats in one building. The assistance of a qualified pest control specialist is crucial because of this.
Other Related Articles