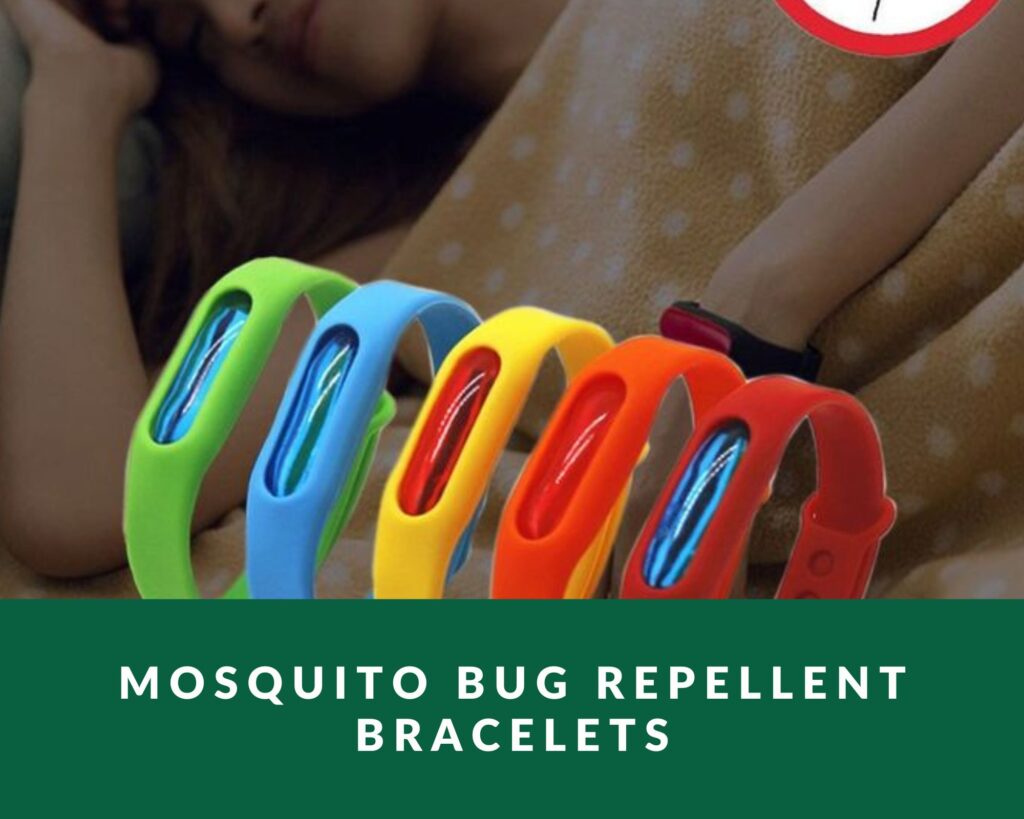 Mosquito bug repellent bracelets:
The number of mosquitoes that appear determined to destroy your day increases as the temperature increases. Unless you cover yourself in insect spray or position yourself next to a zapper, it's nearly impossible to avoid slapping away those annoying mosquitoes while lounging by the pool or enjoying a pleasant beach day.
A quick look at the best mosquito bug repellent bracelets
Although it's not exactly like most of us enjoy the smell of insect spray, we all know how awful it feels to have that sticky thing all over us. Fortunately, there is a workable fix: repellent bracelets.
Read on to learn more about mosquito repellent bracelets, our top selections for the best ones, and what to think about before buying. 
What are mosquito repellent bracelets
Mosquito bracelets are starting to emerge in your neighborhood convenience shop alongside bug sprays, coils, and insect nets. What are they, though?
A mosquito repellent bracelet is, simply expressed, a wristband that deters mosquitoes from biting you. They are quite simple to apply and don't involve dousing your body in sticky chemicals. These bug-repelling wristbands are worn on the wrist like any other accessory, just like your watches.
And the best part? They're a discreet accessory you can throw on before you head out the door, there's no need to hose yourself down in the shower to free your skin from the harsh chemicals commonly found in sticky, bug spray. 
Do the mosquito repellent bracelets work?
The effectiveness of the product is obviously the most essential factor when it comes to mosquito repellent bracelets, but determining this can be challenging. The labeling on the mosquito bracelet that states it has been tested and authorized by an expert in the field scientist who studies mosquitoes and is knowledgeable about insect control—is the best indication of its effectiveness.
The name brand or manufacturer of a product is another indicator that suggests that it is probably effective. Although generic or off-brand products could be excellent choices in some cases, insect repellent products made by major industry players go through extensive testing.
What to consider when shopping for mosquito bug repellent bracelet
A bracelet that repels mosquitoes is a fantastic tool to use in conjunction with the registered mosquito repellent you already use—or even to use on its own on occasions when you wouldn't otherwise apply mosquito repellent.
These include natural bug repellent-impregnated bands and coils (or those that use inserts that are coated) and electronic mosquito repellents. The following characteristics of repellent bracelets are vital:
Allergies
If you want to wear a bracelet that repels mosquitoes, be aware of what essential oils you might be allergic to. Whether at all feasible, look up the bracelets' contents to see if they include any essential oils that could potentially induce an adverse reaction.
Age
There are electrical mosquito-repellent bracelets available that don't use essential oils that can hurt a kid's skin if you have a child who is 3 years old or younger and you want them to wear a bracelet that repels mosquitoes.
These electronic bracelets alternatively emit ultrasonic noises that are intended to scare off mosquitoes. Although these bracelets' ultrasonic sounds are imperceptible to humans, insects should find them repulsive..
Bracelet material
It is advisable to purchase a band that is hypoallergenic and won't trigger an allergic reaction if you have a silicone or rubber allergy. You can also choose a bracelet made from a different material, such as mesh, as these are typically considered safer and more hypoallergenic than silicone and rubber. Mesh-covered mosquito-repellent bracelets are frequently far more breathable than their silicon and rubber counterparts, and they may also feel more comfortable on the wrist.
Other factors to consider include:
Efficacy
Duration of the product
Comfort for the wearer
Best mosquito bug repellent bracelets
The following mosquito bug repellent bracelets are most recommended for those battling insect bites. They are safe and do not pose threat to the skin. If you are looking for the best remedy to repel bugs, it can even keep bugs out of sight. We have your solution.
---
PIC Bugables Coil Wristbands – when you don't want to use a band by putting them through your clothes, these are perfect for holding keys or cash. Their high durability and easy-to-use design make them great for use as a wristband and/or as a keychain.
Pros
Easy to use
They are convenient for travelers, hikers and outdoor recreationalists.
They are durable
Cons
Our Para'Kito bracelet is the perfect way to keep mosquitos, insects and other bugs at bay. This bracelet has a mesh that holds the essential oils in place so they won't leak out of your wristband (which can be hazardous if ingested).
The wristband contains citronella, cedarwood & lemongrass oils which repel and kill those pesky little critters.
Pros
Small and lightweight
Fast-acting mechanism
Cons
---
Enjoy the protection of Cliganic Repellent by munching on these bite-sized beef jerky sticks. The Cliganic DEET-Free Mosquito Repellent Bracelet is made with citronella, lemongrass and peppermint extracts to keep mosquitoes, flies and gnats away. Each bracelet is individually wrapped in cling wrap and sealed.
Pros
Easy to use
It is safe for you and your family
Long lasting
Safe for babies and children of any age.
DEET-free
Cons
Activates after some time
---
Made from a biodegradable waterproof elastic material with a blend of essential oils that prevent these annoying bugs from biting, this bracelet is designed for both kids and adults. Wear one of these silicone bands to protect your skin during camping trips, hunting activities and more!
Pros
These wristbands will help keep you from getting bitten.
You can wear them outdoors or on the boat, in the mountains or lakeside
They are waterproof
---
Conclusion
These are just a handful of the several wristbands that are commercially available to ward off mosquitoes. We've barely begun to touch the surface!
The greatest available bracelets for repelling mosquitoes have been specifically chosen for this article. They each have distinctive design elements. starting with the basic bands and moving on to the vibrant and colorful ones. Each of them has perks and drawbacks.
Top Related Articles